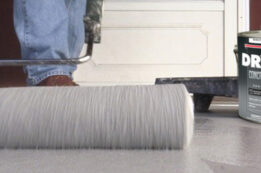 Quick Overview
DRYLOK® Latex Concrete Floor Paint is used to beautify horizontal masonry and wood surfaces like concrete and wooden steps, concrete walkways, and garage/basement floors. Use with decorative stencils to add personality and protection.
Non-flammable
Interior/exterior
Use on new or previously painted surfaces
Resists hot tire pick-up
No primer needed
Green Wise® Certified
Complies with all current VOC requirements
Product Features:
5 Ready mixed colors (White/Light Tint Base and Dark Tint Base may be custom tinted)
Clean up with soap and water
Size: gallon
Coverage: 500 square feet per gallon
Application tools: brush first coat, use a brush or roller for the second coat
Dry time: 4 hour
Coats: maximum of 2
Recoat time: 4 hours
Surfaces
Garage floors
Basement floors
Brick patios
Poured concrete and block patios
Wood steps
Ready-Mixed Colors
White/Light Tint Base
Gull
Dover Gray
Persian Red
Bamboo Beige
Please note, colors are RGB web approximations of the actual shades.
Tints
Caramel
Deep Charcoal
Georgetown Gray
Platinum
Sandstone
Soft Gray
Spruce
Terra Cotta
Please note, colors are RGB web approximations of the actual shades.
How To / Videos
How to create a Decorative Faux Finish on a Patio with DRYLOK® Latex Concrete Floor Paint
How to give Exterior Living Space a Facelift with DRYLOK® Floor Paint
Preparation
Remove all dirt, wax, dust, mildew, and loose or scaling material with a scraper, wire brush or stiff bristle brush*. Grease, wax, and oil should be removed by scrubbing with a heavy duty detergent in warm water. Rinse thoroughly with clean water. Allow the surface to dry. Using a pressure washer? Do not use on a pressure setting above 1750 psi, to avoid damaging the concrete. Remember, concrete acts like a sponge. Pressure washing and general cleaning may trap residual moisture in the concrete.
To check for trapped moisture, tape a 12" x 12" piece of 3 mil plastic or aluminum foil tightly on all four edges to the surface. Remove it after 24 hours. If the floor side of the plastic or foil is damp, allow additional drying and repeat the test. A dehumidifier or fan may help to eliminate residual trapped moisture.
If you see white, powdery, crystal-like deposits on the surface, they are naturally occurring, water-soluble salt compounds in the masonry, pushed out by water intrusion. When the water evaporates, the salt residue remains. This effect is called efflorescence and, because it prevents DRYLOK® Concrete Floor Paint from properly bonding to the surface, it must be removed. Treat it with DRYLOK® Etch** (liquid or powder formula) or muriatic acid according to the manufacturer's directions, rinse and allow to dry.
DRYLOK® Etch will also properly prepare the concrete's profile to accept the coating. Properly prepared concrete should look and feel like medium grit sandpaper. If the concrete remains smooth, repeat the etching procedure. You can test the concrete porosity by sprinkling a few drops of water onto the surface in several areas. If the water is readily absorbed, you are ready to apply the coating. If it beads or sits on the surface, additional cleaning and etching is needed. Rinse thoroughly with clean water and allow the surface to dry for 24 hours.
Patch all holes and cracks with a suitable cement-based patching compound. Be sure to smooth the patch evenly. Allow the patched area to dry thoroughly.
Application
Schedule your project when both air and surface temperatures are 50°F or higher and, for best results, wait for a dry (rain-free) period. Thin the first coat with one pint of water per gallon of paint and apply with a brush (a good quality nylon/polyester blend) to ensure good adhesion.
Provide good ventilation to encourage normal drying. Allow the first coat to dry for 4 hours prior to applying the second coat. Apply the second coat at full strength by brush or quarter-inch nap roller. High humidity and low temperatures may require longer drying times. When using 2 or more containers of the same color of DRYLOK® Concrete Floor Paint, mix them together to ensure color uniformity.
Disposal
Dispose of contaminated absorbent, container and unused contents in accordance with local, state and federal regulations.
USAGE STATEMENT: Prior to use, carefully read the product label and follow the directions. For technical information, warnings, cautions, notices, and additional information, download and read the documentation available on this website.
California Residents: Prop 65 WARNING(S)
* WARNING: If you scrape, sand or remove old paint, you may release lead dust. LEAD IS TOXIC. EXPOSURE TO LEAD DUST CAN CAUSE SERIOUS ILLNESS, SUCH AS BRAIN DAMAGE, ESPECIALLY IN CHILDREN. PREGNANT WOMEN SHOULD ALSO AVOID EXPOSURE. Wear a NIOSH-approved respirator to control lead exposure. Clean up carefully with a HEPA vacuum and a wet mop. Before you start, find out how to protect yourself and your family by contacting the National Lead Information Hotline at 1-800-424-LEAD or visit www.epa.gov/lead.
** When using DRYLOK® Etch®, wear eye protection with side shields, chemical-resistant gloves, protective footwear and suitable clothing.