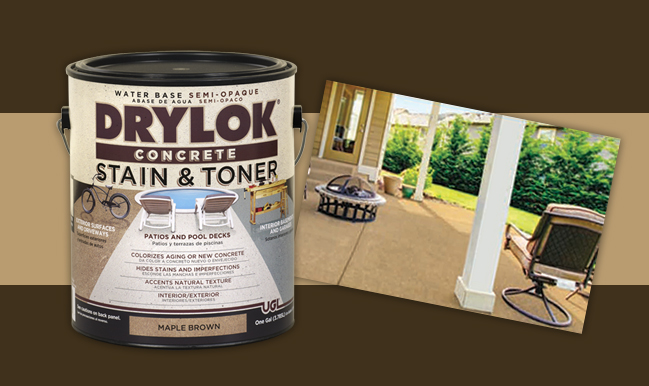 DRYLOK
® Concrete Stain and Toner is perfect for use in interiors, exterior patios, walkways, statuary, basement floors, garage floors, retail stores and shopping malls.
FEATURES
AND
BENEFITS
Available in 3 ready-mixed colors and tintable to 27 colors
The color is not determined by the composition of concrete-like acid stains
Topcoat with a water-base sealer for a gloss look
No neutralizing required
Perfect for new or existing substrates
Create unique finishes with ease
Mimic the look of old-world stone and marble
Will not mask the surface texture
Perfect for use with a sponging technique
KEY
ADVANTAGES
DRYLOK
® Concrete Stain and Toner can be used alone or in combination with other colors for a decorative finish. Different looks will be achieved each time, depending on the substrate and the porosity of the surface.
DRYLOK
® Concrete Stain and Toner offers an artistic way of giving a semi-opaque, variegated appearance to bare or aged, vertical or horizontal concrete. It is less expensive and safer to use
DRYLOK
® Concrete Stain and Toner to brighten and decorate aged concrete. In addition, the adhesion is much stronger than when a concrete paint is used.