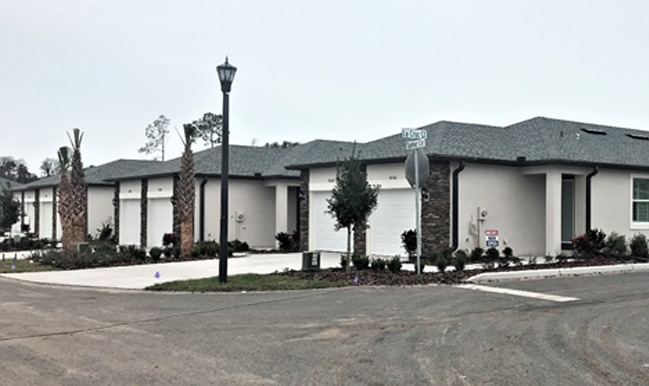 When choosing exterior finishes for residential homes, understanding the environment is key to success. Moreover, when you own the property, the plan is to select an exterior finish that provides both longevity and value.
DEEB Family Homes consider three key characteristics when choosing an exterior cladding system. When they are planning for their new duplex project in New Port Richey, Florida,
#1 Building the exteriors with Portland Cement-Based Exterior Plaster (stucco)
This material is very durable and provides an extended, maintenance-free exterior. However, stucco can be prone to cracking when moisture seeps through the exterior coating due to high levels of wind-driven rain and the hot, humid conditions of central Florida.
#2 Location
The development is located only a few miles from the Gulf of Mexico. This area has been the target of over 70 hurricanes since 1930, bringing massive amounts of rain and damaging winds.
#3 Low, long-term maintenance
The Deeb family was planning to maintain ownership of the duplex homes and use them as rental properties. Therefore, they wanted low, long-term maintenance and a tough exterior.
During their evaluation process, they consulted Robert Koning of the Stucco Institute in Hudson, Florida. The Stucco Institute is an educational training and consulting center with a long history consulting on exterior Portland Cement-Based Plaster (stucco) (https://​stuc​coin​sti​tute​.com/). Mr. Koning recommended the best, most robust system for the environment – the DRYLOK Sealed Cladding System.
The home's construction is solid mass walls built from locally sourced Concrete Masonry Units (CMU's). Next, apply two coats of Portland Cement-based Exterior Plaster (stucco) to a ½ inch final thickness that included a decorative spatter texture.
Once the stucco properly cures, Apply two coats of DRYLOK Extreme Masonry Waterproofer (http://​www​.dry​lok​.com/​p​r​o​d​u​c​t​s​/​d​r​y​l​o​k​-​e​x​t​r​e​m​e​-​m​a​s​o​n​r​y​-​w​a​t​e​r​p​r​o​o​f​e​r.php) to the stucco surface. Apply The DRYLOK Extreme at 100 SF/​Gal, for a dry mil finished thickness of approximately 17 mils. The DRYLOK Extreme coats provide a primed, sealed, and waterproof base for a final paint color coat with a satin sheen. It also creates a finish withstands over 140 MPH of wind-driven rain and seals out all water vapor and humidity, GUARANTEED. A fifteen-year transferrable waterproof warranty is provided with all properly applied DRYLOK Extreme applications to cement-based surfaces.
Furthermore, with proper maintenance, DEEB Family Builders can enjoy many years of carefree service and no water or moisture intrusion with the DRYLOK Sealed Cladding System and DRYLOK Extreme Masonry Waterproofer. For more information on Face Barrier Sealed Cladding Systems, also visit http://​www​.dry​lok​.com/​d​r​y​l​o​k​-​s​e​a​l​e​d​-​c​l​a​d​d​i​n​g​-​s​ystem.