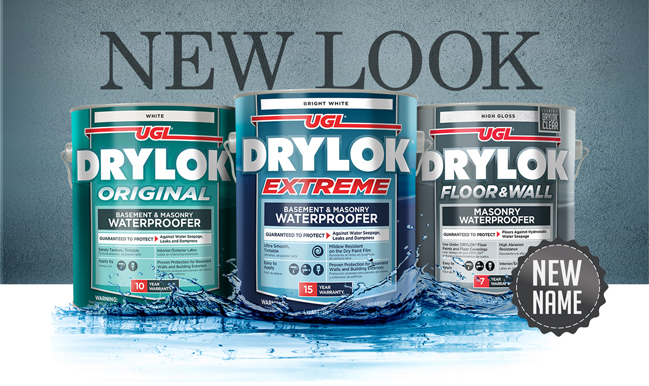 United Gilsonite Laboratories (
UGL
), is pleased to announce that it will introduce new packaging designs for their top-selling
DRYLOK
® Masonry Waterproofing products (Original Latex Base
DRYLOK
®, Extreme
DRYLOK
® and
DRYLOK
® Floor and Wall (formally known as Clear
DRYLOK
®)). The first of the new packaging will hit the market in mid April. Over the course of 2019,
UGL
will roll-out several additional products under the
DRYLOK
® name to fit into the new family identity. The new labels will reflect the company's continued innovation in processing and products, as well as its commitment to evolving with its consumers' needs while remaining true to the authentic quality we have been offering customers since 1932.
DRYLOK
® Masonry Waterproofer has been in the market since 1953. The new vision for the
DRYLOK
® brand solidifies the company as a leading manufacturer of specialty paint products available to consumers worldwide. This refreshed label debuts at a critical time. A recent study found that thirty-six percent of customers purchased a product based on package design.
UGL
contemporized the
DRYLOK
® packaging by leveraging existing brand equities that distinguish and drive preference for the brand while also connecting with today's shopper at the store shelf. This new look also creates a refreshed package design system that has a cohesive brand presence which will improve shop-ability. The packaging differentiates products within the
DRYLOK
® line to show a clear good/​better/​best strategy and a consistent communication hierarchy that will ease product comparison and selection. ​
"
It was important for us to stay true to the history of this proven product while remaining relevant as today's consumer changes." The refreshed label enables us to better speak to consumers looking for a qualified solution for water seepage," said Michele Neary, Vice President of Marketing. Choosing to update
DRYLOK
®'s labels speaks to the company's dedication to remaining a consumer favorite.