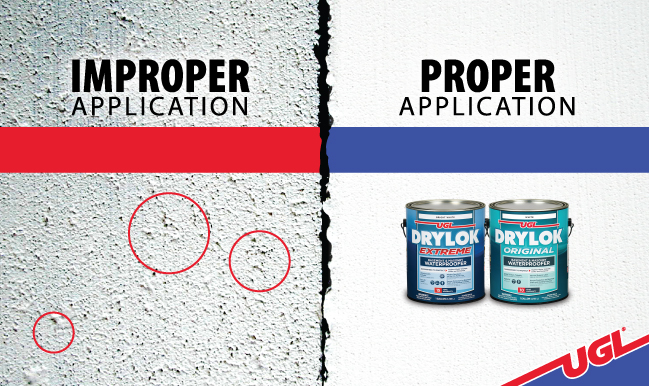 So, when you open a can of
DRYLOK

® Original
or
DRYLOK

® Extreme
, you'll realize how thick this product really is. Resist the temptation to water it down (do not thin)! The viscosity of the formula is your friend. First off, make sure you're using a three-quarter-inch nap roller or paint brush specifically designed to work with heavy-bodied paint (like the
DRYLOK

® Brush
). Second, follow the directions, starting with stirring the product before and during application. Scheduling your project? Pick a rain-free chunk of time, when the forecast is calling for warm weather. Both the air and the surface temperatures should be at least 50ºF.
If you're using a brush, really work it into the surface of the masonry, filling in all the little pores and pinholes. It's not like painting a wall in your living room, where the paint just sits on top. You have to use the tips of the bristles to push
DRYLOK
® into the pits and crevices of the uneven surface. Only then will it form an impenetrable barrier and keep water at bay.
If you prefer to use a roller, be sure to back brush the first coat to make sure
DRYLOK
® penetrates those pores and pinholes. After three hours, the first coat will be dry. Apply coat number two using your choice of a roller, brush, or sprayer. A minimum of 2 coats is required for the fully transferable warranty to apply. Now, inspect the surface for any remaining pinholes and fill them in. If it still leaks, a random pore or pinhole is still open. Find it and fill it. It's always a good idea to keep a copy of the warranty (and your receipt) with your important house papers. Download
DRYLOK

® Original's 10-Year Warranty
or
DRYLOK

® Extreme's 15-Year Warranty
.
Find a retailer near you.