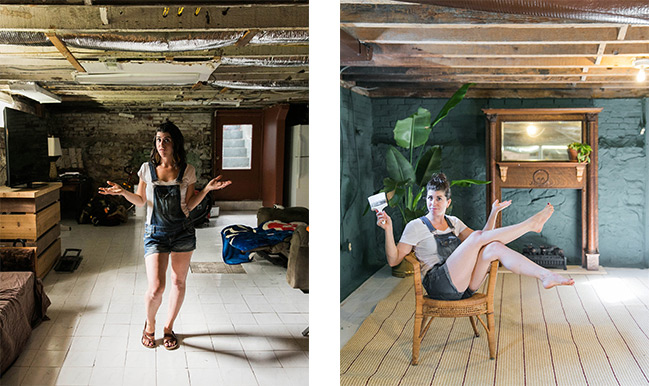 Waterproofing with Jessica Brigham
Full video click here https://​www​.youtube​.com/​w​a​t​c​h​?​v​=​b​i​I​K​t​y​f1eqE
My basement was in a serious need of TLC. In this latest installment of Yes You Can!, I'm going to show you how to paint old stone basement walls with DRYLOK. AKA the cake batter paint of wonders.
'Cause yes! You can turn a dingy, damp, dungeon of a basement into a waterproofed, moodylicious lounge and space you'll actually want to be in. Have a look at the video tutorial and bone-up on those transformative basement‑y skills with the instructions below.
HERE

'S

WHAT

YOU

'

LL

NEED
To prep
Bristle brush
Hammer
Scraper
Toolbelt
Shop-vac + broom
Respirator
Protective eyewear
To paint
DRYLOK Extreme Basement & Masonry Waterproofer (Tintable)
Fat paintbrush or smaller angled brush (my choice)
Tiny paintbrush (for deep cre-vaces)
CLEAN

UP

THOSE

CRUMBLY

WALLS
Gather your prep tools. With your hammer and scraper, remove any damaged or deteriorated mortar. Use the bristle brush to remove excess dirt, especially in deep crevices. Vacuum up the debris and sweep up large chunks with a broom.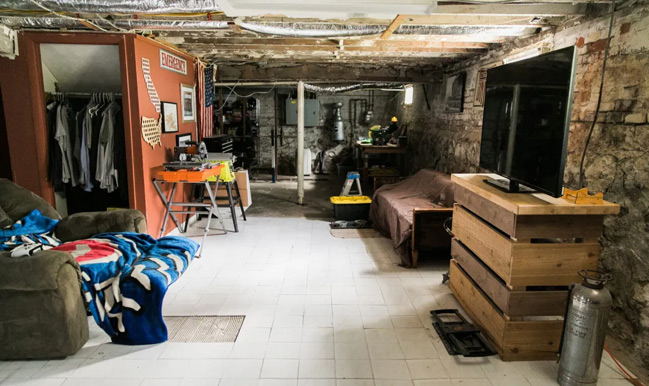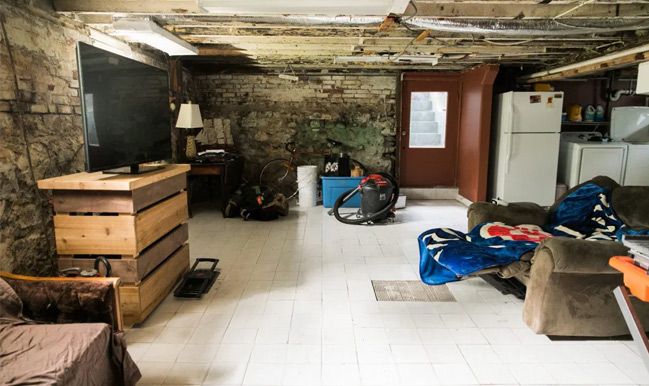 ROCK

THAT

PATCH
Once the stone surface is tidied up, it's time to rock that patch! DRYLOK's Fast Plug works great to block out moisture and cures SUPER fast. Only mix what you can use in a short amount of time.
FACT

: I mostly patched major or super dark crevices. I preferred the look of the deep grooves that occurred over time. Adds real nice character.
BREAK

OUT

THE

PAINT
Most DRYLOK paints come in white or in ready-mix colors. I knew from the beginning I'd be painting this basement a moody color. When I discovered certain DRYLOK paints are, in fact, tintable, I went to my local hardware store and had way too much fun designing a custom color. Calling this one Brigham Green.
Using a fat brush or a smaller angled brush (like me), and an itty bitty one for those tight crevices, apply your DRYLOK in thickkkk globs. Vigorously paint in all directions — up, down, and all-around to achieve ultimate coverage.
For super extra deep crevices, swipe a fully-loaded brush of paint upward and then right to left until happiness is achieved.
Easy as pie, right? Haa — just kiddinggg! I didn't come here to tell ya it was easy, but I did come here to tell ya it's worth it. The magic of paint never ceases to amaze.
DRYLOK, you rock. ​'Cause these basement walls are waterproofed, and this old stone foundation is restored. Click here for a closer look at the ​"Before" of the Brigham Basement.