7.5‑acre recreational water park was completed in 2018. Winner: Engineering News-Record Award of Merit 2019 – Sports
&
Recreation
PROBLEM

:

Need for fast drying, easy to use, cost-effective, durable, and aesthetically pleasing waterproofing coating for a poured concrete lagoon. The Epperson Crystal Lagoon is a 7.5‑acre human-made waterfilled oasis built as an amenity to a 2000 home Epperson housing development in Wesley Chapel,

FL

, just north of Tampa. The lagoon features blue purified water, sandy beaches, a swim-up bar, grab

&

go food, and rentals of recreational watercraft. Approximately 2000 visitors a day experience this one of a kind waterpark. The lagoon employs a new patented water filtration system. It purifies the water with 100 times fewer chemicals than a typical community swimming pool and only 2% of the energy. According to Jay Canals, President for

AIC

Painting, the coating applicator for the project, ​

"

The lagoon designer originally specified a complicated, multi-component coating product for the project. ​

"

We were aware of the benefits of

DRYLOK

® for an application like this." A test of the proposed system versus

DRYLOK

®

EXTREME

confirmed results. ​

"

The proposed coating system did not work as it dried too fast. We suggested

DRYLOK

®

EXTREME

as we had used it on other pond and lagoon projects." There was a concern that the coating would absorb the blue dye used in the water. ​

"

When we tested

DRYLOK

®

EXTREME

, it worked extremely well," added Canals. ​

"

The dye residue on the samples washed right off.

DRYLOK

®

EXTREME

did everything it was supposed to do." Powdered

DRYLOK

® was applied to the critical areas around cast concrete sump boxes that were initially leaking groundwater. ​

"

We consulted our

UGL

Sales Manager, Glenn Russell, who offered the Powdered

DRYLOK

® as a potential solution for this constantly submerged box. Powdered

DRYLOK

® worked perfectly." Due to the compressed timeline for a scheduled grand opening that featured Olympic Gold Medalist Michael Phelps set to christen the new facility, putting the lagoon in service fast was a priority. ​

"

With the easy and user-friendly application of

DRYLOK

®

EXTREME

, we were able to speed through the project and stay ahead to the media opening schedule," explained Canals. Upon completion, the area will comprise 37,000 homes and 12 million feet of commercial and office development. Future Crystal Lagoons installations are scheduled in the Mirada community north of Epperson and Southshore Bay in south Hillsborough County, Florida.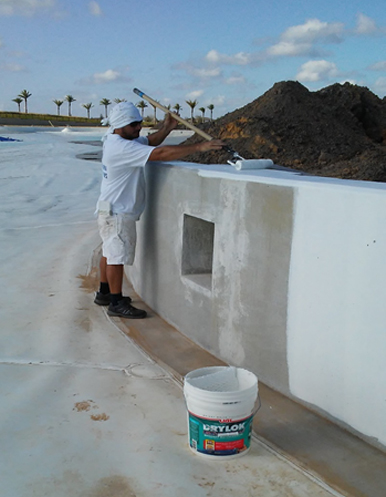 SOLUTION

:

PRODUCTS

USED

:

DRYLOK

®

EXTREME

Latex Masonry Waterproofer Powdered

DRYLOK

® Masonry Waterproofer

PROJECT

PARTICIPANTS

:

Designer: Crystal Lagoons, Miami,

FL

&

Santiago, Chile Owners: Metro Development Group, Tampa,

FL

Applicator:

AIC

Painting, Land-O-Lakes,

FL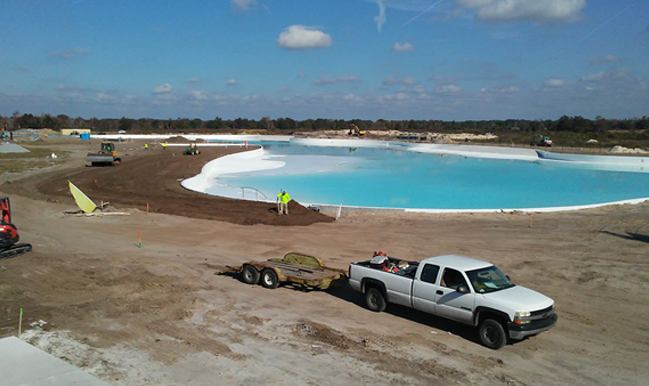 DOWNLOAD
PDF